I had so much fun with my very first vignette. I've been under the impression that "vignettes" should be and are fancy. Vignettes are for decorator's with BIG budgets and serious skills. Vignettes belong in grand homes. Well, guess what? That's nonsense! You can have a vignette in a small 10'x12' dining room, on a repurposed buffet, and it doesn't need to cost a fortune.
Mine is proof. :)
I picked up a yard of this red & white fabric at Hobby Lobby. I sewed the table runner and then covered the lamp shade. Some offray felt trim was also added to the shade.
Here is a view of the open shelf that holds some red & white dishes that I got on clearance at Kohl's last year - birthday present to myself. :)
This tall glass dish can be used as a candy dish or candle holder and if flipped, it is a vase. It was on clearance at Pier One.
Yarn trees - because I love yarn trees.
And, finally a peppermint candle, also from Pier One, completes my holiday buffet.
I'm linking up to
A Thoughtful Place
, and passing along the merry. :)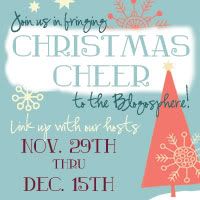 Happy December, all!!!
hugs, patti